HOME ~ College Football History
LSU's The Nickname: "Fighting Tigers"

Way back in the fall of 1896, coach A.W. Jeardeau's LSU football team posted a perfect 6-0-0 record, and it was in that pigskin campaign that LSU first adopted its nickname, Tigers.

'Tigers' seemed a logical choice since most collegiate teams in that year bore the names of ferocious animals, but the underlying reason why LSU chose 'Tigers' dates back to the Civil War.

According to Arthur W. Bergeron, Jr., PhD. and the "Guide to Louisiana Confederate Military Units, 1861-1865" (LSU Press, 1989), the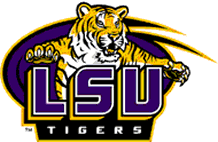 name Louisiana Tigers evolved from a volunteer company nicknamed the Tiger Rifles, which was organized in New Orleans. This company became a part of a battalion commanded by Major Chatham Roberdeau Wheat and was the only company of that battalion to wear the colorful Zouave uniform. In time, Wheat's entire battalion was called the Tigers.

That nickname in time was applied to all of the Louisiana troops of Robert E. Lee's Army of Northern Virginia. The tiger symbol came from the famous Washington Artillery of New Orleans. A militia unit that traces its history back to the 1830s, the Washington Artillery had a logo that featured a snarling tiger's head. These two units first gained fame at the Battle of First Manassas on July 21, 1861. Major David French Boyd, first president of LSU after the war, had fought with the Louisiana troops in Virginia and knew the reputation of both the Tiger Rifles and Washington Artillery.

Thus when LSU football teams entered the gridiron battlefields in their fourth year of intercollegiate competition, they tagged themselves as the 'Tigers'.

It was the 1955 LSU 'fourth-quarter ball club' that helped the moniker 'Tigers' grow into the nickname, 'Fighting Tigers'.

Thanks to Arthur W. Bergeron, Jr., PhD., a historian at the Pamplin Historical Park, for contributing to the above information.

Colors: Purple and Gold

There is some discrepancy in the origin of Royal Purple and Old Gold as LSU's official colors.

It is believed that those colors were worn for the first time by an LSU team in the spring of 1893 when the LSU baseball squad beat Tulane in the first intercollegiate contest played in any sport by Louisiana State University. Team captain E.B. Young reportedly hand-picked those colors for the LSU squad.

Later that year, the first football game was played. On November 25, 1893, football coach/chemistry professor Dr. Charles Coates and some of his players went into town to purchase ribbon to adorn their gray jerseys as they prepared to play the first LSU gridiron game.

Stores were stocking ribbons in the colors of Mardi Gras -- purple, gold and green. -- for the coming Carnival season. However, none of the green had yet arrived at Reymond's Store at the corner of Third and Main streets. Coates and quarterback Ruffin Pleasant bought up all of the purple and gold stock and made it into rosettes and badges.

"Mike the Tiger"

The live Bengal Tiger whose habitat lies across the street from Tiger Stadium has been a part of the LSU tradition since the early days of athletics in Baton Rouge (Nov. 21, 1936). Meanwhile, his two-legged furry costumed counterpart that stalks the sidelines of LSU athletics events has been on campus since the 1950s.

Mike travels throughout the country with many of the Tiger teams, while also making public appearances to promote LSU athletics in Baton Rouge and surrounding communities.

"Fight For LSU"

Like Knights of old, Let's fight to hold
The glory of the Purple Gold.
Let's carry through, Let's die or do
To win the game for dear old LSU.
Keep trying for that high score;
Come on and fight,
We want some more, some more.
Come on you Tigers, Fight! Fight! Fight!
for dear old L-S-U.
RAH!

"Hey Fighting Tiger"

Hey, Fightin' Tigers, Fight all the way
Play Fightin' Tigers, win the game today.
You've got the know how,
you're doing fine,
Hang on to the ball as you hit the wall
And smash right through the line
You've got to go for a touchdown
Run up the score.
Make Mike the Tiger stand right up and roar.
ROAR!
Give it all of your might as you fight tonight
and keep the goal in view.
Victory for L-S-U!

"Tiger Rag"
(Hold that Tiger)

Long ago, way down in the jungle
Someone got an inspiration for a tune,
And that jingle brought from the jungle
Became famous mighty soon.
Thrills and chills it sends thru you!
Hot! so hot, it burns you too!
Tho' it's just the growl of the tiger
It was written in a syncopated way,
More and more they howl for the 'Tiger'
Ev'ry where you go today
They're shoutin'
Where's that Tiger! Where's that Tiger!
Where's that Tiger! Where's that Tiger!
Hold that Tiger! Hold that Tiger!
Hold that Tiger!

"Touchdown for LSU"

Tigers! Tigers! They've come to town,
They fight! They fight! Call a first down,
Just look them over, and how they can go,
Smashing the line with runs and passes
high and low.
Touchdown! Touchdown! It's Tigers' score.
Give them hell and a little bit more.
Come on you Tigers, Fight them, you Tigers,
Touchdown for LSU.
Rah! U. Rah!

LSU Alma Mater

Where stately oaks and broad magnolias
shade inspiring halls,
There stands our dear Old Alma Mater
who to us recalls
Fond memories that waken in our hearts
a tender glow,
And make us happy for the love
that we have learned to know.

All hail to thee our Alma Mater,
molder of mankind,
May greater glory, love unending
be forever thine.
Our worth in life will be thy worth
we pray to keep it true,
And may thy spirit live in us, forever…L-S-U.