HOME ~ College Football History
Kansas Powercat Logo

One of the most recognizable athletic logos in the nation is the K-State Powercat. The logo was introduced by Bill Snyder shortly after his arrival in Manhattan as the attitude of the entire athletics department and University was changing.

Manhattan native Tom Bookwalter, in cooperation with head coach Bill Snyder, created the powerful logo that is a prominent feature on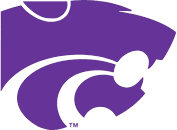 the K-State football helmet, at Wagner Field, on the back of the Dev Nelson Pressbox, clothing, flags, bottled water, vanity plates for cars and just about anywhere there can be one.

Previous logos used by the athletics department included a line drawing of a wildcat head and the cartoonish "Willie the Wildcat" that is used only by the Alumni Association.



Nickname
Through its first 19 seasons of athletic competition, Kansas State had used "Aggies" as its nickname. But prior to the 1915 season, new coach John "Chief" Bender gave his squad the nickname "Wildcats." The moniker lasted the one season Bender coached at K-State. Under Coach Z.G. Clevenger in 1917, the school team became known as the "Farmers." In 1920 Coach Charles Bachman, took over the program, renaming the team "Wildcats." This time, the nickname stuck.

Willie the Wildcat

Willie, a student bedecked in a oversized Wildcat head, is K-State's No. 1 fan. Willie Wildcats are selected yearly by a panel appointed by the cheerleader coach. The mascot is a central part of athletic contests and attends functions around the state as an ambassador. Traditionally, the identity of the student portraying Willie is kept secret.

Entertaining Wildcat fans of all ages, Willie the Wildcat has become a well-recognized icon of Kansas State University both in the Manhattan community and across the United States.

School Songs

The Alma Mater was selected as a result of an 1888 campus contest. H.W. Jones ('88) was responsible for K-State's prized result. Jones' original work was four stanzas including the chorus. His version has been slightly altered over the years to include just two stanzas and the changing of the words from KSAC to KSU. The school's fight song is entitled "Wildcat Victory."

Alma Mater

"I know a spot that I love full well, 'Tis not in forest nor yet in dell, ever it holds me with magic spell, I think of thee Alma Mater.

"KSU, we'll carry the banner high, KSU long, long may thy colors fly. Loyal you to thee they children shall swell the cry.

"Hail, Hail, Hail Alma Mater."

Wildcat Victory

"Fight you K-State Wildcats. For Alma Mater fight-fight-fight.

"Glory into combat for the purple and white. Faithful to our colors, we shall ever be, fighting ever fighting for a Wildcat Victory!"