HOME ~ College Football History
NeTestudo: Tale of the Top Shell
Testudo is a Diamondback turtle. Like some other famous personages born into the Depression of the 1930s, the derivation of his name is cloudy. But it is likely that his moniker is derived from the scientific classification for turtle (testudines). Or the top turtle could be named after testudo gigantia, a species native to the African nation of Seychelles and one of its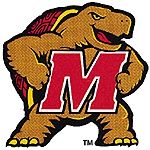 remote islands, Aldabra. Or the name could have come from a dictionary definition that says the word, testudo, was derived from the Latin and meant a shelter held over the head of Roman soldiers -- like a tortoise shell. These explanations are a long way from the Chesapeake Bay where the Diamondback lives.

When Testudo had his coming out on May 23, 1933, he was thrown into a world filled with intimidating mascots -- Wildcats, Tigers, Devils, Wolves, Bears -- thought up over a half-century of intercollegiate competition. Maryland College Park was consolidated from different state schools in 1920 to form the base of today's wide-ranging state system, and the remodeled Maryland needed a flag carrier to do battle with Wahoos, Lions and Generals.

Dr. H.C. Byrd, a football coach who later became University President, recommended the Diamondback as mascot in 1932 in response to the student newspaper's search for an "official" leader. Byrd's childhood in Crisfield, Md., apparently included skirmishes with this brand of snapping turtle, indigenous to the Bay. The school paper was in fact already called The Diamondback, and when the Class of 1933 stepped forward with the idea of giving the University a permanent bronzed version as its graduation gift, Testudo's family was in to stay.

Maryland had been referring to itself as Old Liners, yet another name whose derivation of which no one seems sure. Historians are in a scrimmage over whether the nickname is a reference to a Revolutionary War Troop of Maryland soldiers who distinguished themselves on the field of battle, or they feel it could refer to a squabble with Pennsylvanians over just where the border between the two states should be.

The Class of '33 raised money for casting a Diamondback by holding its Senior Prom on campus to save money on expenses. And the yearbook and Student Government Association chipped-in. Edwin C. Mayo, Class of '04 and a former quarterback, donated at cost the 300 pound bronzed beauty as President of Gorham Manufacturing in Providence, R.I. Robert J. Hill cast the inspired sculpture accomplished by company artist Aristide Cianfrani. Further turtleization came when the student yearbook, The Reveille, became The Terrapin in 1935. Newspapers, even then exploring every angle, shortened Terrapin to Terp for headline writing ease when it wasn't trying to cram Old Liner into a single column head. The name was in place; now came the stuff of legend.

Maryland Victory Song
Maryland, we're all behind you.
Wave high the black and gold,
For there is nothing half so glorious
As to see our men victorious.
We've got the team, boys,
We've got the steam, boys,
So keep on fighting, don't give in!
M-A-R-Y-L-A-N-D
Maryland will win!

Maryland Alma Mater
Hail Alma Mater!
Hail to thee, Maryland!
Steadfast in loyalty,
For thee we stand.
Love for the black and gold,
Deep in our hearts we hold,
Singing thy praise forever
Throughout the land.