HOME ~ College Football History
The Tradition, History, and Legend

All-America x 11
Jimmy "Red" Phillips made 11 All-America teams in 1957 before becoming an All-Pro with the Los Angeles Rams and Minnesota Vikings and leading the NFL in receiving in 1961.

Aubie
Auburn's award-winning mascot is a fan favorite for Tiger fans, both young and old. On the job since 1979, Aubie's existence began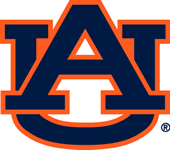 as a cartoon character drawn by Birmingham Post-Herald artist Phil Neel in 1959 for a football game program.

Bacardi Bowl
Auburn's first bowl trip and the only bowl game to ever be played outside the United States. Auburn and Villanova battled to a 7-7 tie in Havana, Cuba on New Year's day in 1937. Billy Hitchcock scored the Tigers' only touchdown of the game on a 40-yard run.


Beard, Jeff
Garland Washington "Jeff" Beard could generally be considered the father of modern Auburn athletics. Serving as athletic director from 1951 through 1972, Beard hired legendary coach Ralph "Shug" Jordan, increased the capacity of what is now Jordan-Hare Stadium from 21,500 to 61,500 seats and is responsible for bringing Auburn home football games with Georgia Tech, Georgia and Tennessee to campus. His tenure also produced the basketball arena now named in his honor, the Wilbur Hutsell Track and Field complex and Sewell Hall. Beard is one of only five Auburn athletic directors who also didn't serve as head football coach.

Bo over the top
The climax to a 23-22 Auburn victory over Alabama in 1982 which broke a nine-year losing skid to the Crimson Tide. Bo Jackson's 1-yard leap over the Alabama goal line capped a 66-yard drive and set the stage for what Auburn people consider the Tigers' "coming out" party in the 1980s.

December 2, 1989
Alabama came to Auburn's Jordan-Hare Stadium for the first time in the history of the rivalry. Prior to that, all games in the series had been played at Birmingham's Legion Field since the series was resumed in 1948. A 30-20 Auburn victory settled the score in 1989, but the cross-state journey for the Tide settled a score which had brewed for nearly a century in the hearts of Auburn people. Alabama coach Ray Perkins once said "it won't happen". On Dec. 2, 1989, it did.

The Deep South's Oldest Rivalry
Auburn and Georgia. It began in Feb. 20, 1892 at Piedmont Park in Atlanta and has been played virtually every year since. The Tigers and the Bulldogs have played every year since 1898, 105 meetings, with the exception of 1943, when Auburn didn't field a team due to World War II.

Donahue, Mike
"Iron" Mike Donahue won 99 games in two different stints as Auburn's head coach, tying him with Pat Dye for second on the all-time Auburn victories list. Donahue's 1913 SIAC championship team not only went undefeated at 8-0, but did not allow a single point to be scored on them. On the flip side, his 1920 team averaged 42.5 points per game, despite being shut out twice. During his tenure, 38 players were named as All-Southern Conference.

Don't Make us go there
For years some of Auburn's chief rivals — Georgia, Tennessee, Georgia Tech and Alabama — never made it to The Plains. Auburn's "home" games with those schools were played in Montgomery, Mobile, Columbus and Birmingham. Athletic Director Jeff Beard changed all that starting in 1960. The Auburn-Georgia game was played in Columbus, Athens, Atlanta, Macon or Savannah from 1892 through 1959. In 1960 the Bulldogs finally came to Auburn and lost, 9-6. From 1906 until 1970 Auburn and Georgia Tech played in either Atlanta or Birmingham — 53 straight times in Atlanta — before the Yellow Jackets finally gave in and came to Auburn to lose 31-7. In a series that began in 1900, Tennessee finally played at Auburn in 1974, losing 21-0. In 1989, cross-state rival Alabama made the trip and left with a 30-20 defeat and dreams of an undefeated season ended.


Dye, Pat
Patrick Fain Dye won 99 games and four Southeastern Conference championships in 12 years as Auburn's head coach, but perhaps he will be remembered most for bringing Auburn's "home" game with Alabama to the Auburn campus on Dec. 2, 1989, a 30-20 Tiger victory. Under his leadership as athletic director, Auburn football facilities were elevated to some of the finest in the nation with additions to Jordan-Hare Stadium increasing the seating capacity to 85,214 and 70 luxury suites.

Eleven and Ohhhhh!!!!!
In 1993, first-year coach Terry Bowden directed Auburn to its first undefeated, 11-win season while the Tigers suffered through the first year of NCAA imposed sanctions which kept AU off television and out of the bowl scene. The 11 wins in 1993 were the opening act of a 20-game winning streak which would set the Auburn record for consecutive victories.

The Entrance
The Auburn team began a new tradition in 2000, entering the field from the middle of the south end zone through a cloud of smoke.

Flight of Tiger
For the first time in 2000, Auburn's golden eagle, Tiger, took to the air. The flight, which occurs during the pregame routine, quickly became a fan favorite. Approximately 10 minutes prior to the start of the game, Tiger flies from the upper deck, circles the field and lands in the middle of the field. The routine is a result of training with Joe Shelnutt of the Southeastern Raptor Center.

Hare, Cliff
Cliff Hare was a member of Auburn's first football team who went on to serve as chair of the Auburn Faculty Athletic Committee. Auburn's football stadium is named for the longtime professor and dean of the School of Chemistry. He served as president of the Southern Conference before the formation of the Southeastern Conference.

Heisman, John
The legendary coach for which college football's top honor is named coached at Auburn from 1895-99, posting a 12-4-2 record. Auburn is the only school where John Heisman coached to have a Heisman Trophy winner. Heisman left Auburn for Clemson and then Georgia Tech, where he lost 10 of 15 meetings with Auburn.

Heisman Trophy
Auburn has two. Pat Sullivan won the coveted award in 1971. Bo Jackson did the same in 1985.

Jordan, Ralph
Over the years no name has been more synonymous with Auburn football than Ralph "Shug" Jordan. The all-time winningest football coach at Auburn, Jordan won 176 games over a 25-year career on The Plains. A four-time Southeastern Conference coach of the year, he was also named national coach of the year in 1957 after leading Auburn to its only current football national championship.

Jordan-Hare Stadium
Auburn's showcase football stadium which seats 86,063 with 70 luxury suites located between the lower level and upper deck on the East side of the stadium. The stadium was dedicated Nov. 30, 1939 with 7,500 seats that are now incorporated into the West stands. Ten years later 14,000 more seats were added and the stadium was named Cliff Hare Stadium, although only 12 home games were played there over that 10-year span. Additional seats were added in 1955, 1960 and 1970. The West upper deck was completed in 1980 and the East upper deck and suites were finished for the 1987 season. The facility was renamed Jordan-Hare Stadium in 1973.

Lovelace Museum
Auburn's showcase of a rich athletic history is located off the lobby area of the Auburn Athletic Complex. Opened in April 1996, the John B. Lovelace Museum and Hall of Honor features displays and interactive exhibits which takes visitors from the training table to the Olympic games with Auburn athletes past and present. The museum is open during regular business hours, from 9 a.m. to 5 p.m. on Saturdays and during most campus Auburn athletic events. Admission is free.

Lupton, Frank
Frank Lupton, a halfback and captain of the 1892 football squad, scored the first touchdown and kicked the first conversion in Auburn football history in a 10-0 Auburn victory over Georgia on Feb. 20, 1892.

Nicknames
There is only one ... Tigers. The is no such thing as an Auburn War Eagle, an Auburn Plainsman or Plainsmen or an Auburn Lady Tiger. It is simply Tigers. "War Eagle" is a battle cry.

Nix-to-Sanders
With starting quarterback Stan White lying in pain on the turf of Jordan-Hare Stadium and Auburn's undefeated season hanging in the balance against Alabama in 1993, sophomore quarterback Patrick Nix was summoned to the huddle to face a 4th-and-15 at the Alabama 35-yard line with Auburn trailing 14-5 and 6:09 left on the third quarter clock. Offensive coordinator Tommy Bowden relayed the call to the sidelines and "278Z Takeoff" would become a part of Auburn football lore. Nix, without a chance to loosen up, hung the ball up and receiver Frank Sanders pulled it down for a touchdown. Auburn went on to win 22-14.

Outland Trophy
Auburn players have won two. Zeke Smith won the first in 1958, Tracy Rocker the second in 1988. Rocker made it a clean sweep in 1988 by also winning the Lombardi Award.

"Phantom of Union Springs"
Jimmy Hitchcock was Auburn's first football All-American. The "Phantom of Union Springs" was also a baseball All-American who later returned to coach and hold a position on the Auburn University Board of Trustees. Auburn's baseball facility, Hitchcock Field at Plainsman Park, is named in honor of Jimmy and Billy Hitchcock, brothers who made a lasting impact on Auburn.

Picked off
Those who witnessed Auburn's 30-26 victory over LSU in 1994 saw one of the most bizarre finishes ever to a college football game. With LSU leading 23-9 going into the fourth quarter, Auburn safety Ken Alvis picked off an LSU pass and rambled 42 yards for a touchdown. Before the final horn had sounded Fred Smith followed suit for 32 yards and a score, then Brian Robinson returned yet another pickoff for a 41-yard TD. In all, the Tigers intercepted five LSU passes in the fourth quarter to keep a 14-game winning streak alive.

Piedmont Park
The site of the first Auburn football game on Feb. 20, 1892 in Atlanta. Auburn defeated Georgia, 10-0, in that game, kicking off the oldest rivalry in the South. The Auburn and Georgia athletic departments held a joint ceremony at Piedmont Park on February 20, 1992 to kick off the 100-year anniversary of football at both universities.

Petrie, Dr. George
Dr. George Petrie, a faculty member in the Agricultural and Mechanical College in 1892, organized and was the coach of Auburn's first football team.

"Punt Bama Punt"
Maybe the most famous and easily the most talked about Auburn-Alabama football game. Trailing 16-0 heading into the fourth quarter in the 1972 contest, Auburn got a field goal from Gardner Jett. Then lightning struck — twice. Bill Newton blocked an Alabama punt and David Langner returned it 25 yards for an Auburn touchdown. Three minutes later Newton blocked another punt and Langner ran 20 yards for the score.

Retired Jerseys
There are only three at Auburn; Pat Sullivan's 7, Terry Beasley's 88 and Bo Jackson's 34. Sullivan and Beasley's jerseys were retired following Sullivan's 1971 Heisman Trophy season and Jackson's jersey was retired as part of Auburn's football centennial celebration in 1992.

Sullivan-to-Beasley
Auburn's most prolific passing combination. From 1969 to 1971 Pat Sullivan and Terry Beasley connected for more than 2,500 passing yards and nearly 30 touchdowns. Thirty-one years after the end of their careers, both Sullivan and Beasley still hold Auburn's career passing and receiving records, respectively.

Tiger
The name of Auburn's golden eagle mascot. Not to be confused with "Tigers", which is the correct and only nickname for Auburn athletic teams.

Tiger Walk
An Auburn tradition which began in the early 1960s when Auburn players would walk from Sewell Hall to the football stadium and fans would line Donahue Drive to wish them well. Over the years the Tiger Walk has grown into a major part of game day at Auburn, so much so that it is listed on the players' game weekend itinerary. The largest Tiger Walk is believed to have taken place prior to the 1989 Alabama game when more than 20,000 well wishers lined the street. Every Tiger Walk prior to home games draws thousands and over the last couple of years the Tiger Walk has become a standard as Auburn football players enter stadiums on the road. Tiger Walk is two hours before kickoff for every game.

Toomer's Corner
The center of town, where the Auburn University campus meets the City of Auburn. Toomer's Corner, where College Street intersects Magnolia Avenue, has long been the gathering place for Auburn athletic celebrations. After any football win, and significant victories in other sports, Auburn students and citizens alike join forces to "roll" the trees (and anything else that doesn't move) at Toomer's Corner with toilet tissue. Celebrations after significant football victories can go on for hours and leave the heart of town looking like a blizzard passed through.

Toomer's Drug Store
An Auburn landmark at the corner of College and Magnolia reputed to serve the best lemonade in the country. It is Auburn legend that John Heisman used to frequent Toomer's Drugs for a taste of the now famous lemonade.

Walkons
Auburn has a long and storied past of football walkons who have gone on to very successful football careers. One success story belongs to former All-Pro defensive end Kevin Greene. After being cut once, Greene walked on at Auburn a second time and made the team. He went on to play 15 seasons in the NFL.

"War Eagle"
Auburn's battle cry, not Auburn's nickname. There are several legends concerning the origin of the War Eagle battle cry, dating back to 1864 and the Civil War at the Battle of the Wilderness in Virginia.