How the Crimson Tide Got its Name

In early newspaper accounts of Alabama football, the team was simply listed as the "varsity" or the "Crimson White" after the school colors.

The first nickname to become popular and used by headline writers was the "Thin Red Line." The nickname was used until 1906.

The name "Crimson Tide" is supposed to have first been used by Hugh Roberts, former sports editor of the Birmingham Age-Herald.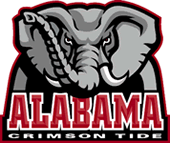 He used "Crimson Tide" in describing an Alabama-Auburn game played in Birmingham in 1907, the last football contest between the two schools until 1948 when the series was resumed. The game was played in a sea of mud and Auburn was a heavy favorite to win.

But, evidently, the "Thin Red Line" played a great game in the red mud and held Auburn to a 6-6 tie, thus gaining the name "Crimson Tide." Zipp Newman, former sports editor of the Birmingham News, probably popularized the name more than any other writer.
The Elephant Story

The story of how Alabama became associated with the "elephant" goes back to the 1930 season when Coach Wallace Wade had assembled a great football team.

On October 8, 1930, sports writer Everett Strupper of the Atlanta Journal wrote a story of the Alabama-Mississippi game he had witnessed in Tuscaloosa four days earlier. Strupper wrote, "That Alabama team of 1930 is a typical Wade machine, powerful, big, tough, fast, aggressive, well-schooled in fundamentals, and the best blocking team for this early in the season that I have ever seen. When those big brutes hit you I mean you go down and stay down, often for an additional two minutes.

"Coach Wade started his second team that was plenty big and they went right to their knitting scoring a touchdown in the first quarter against one of the best fighting small lines that I have seen. For Ole Miss was truly battling the big boys for every inch of ground.

"At the end of the quarter, the earth started to tremble, there was a distant rumble that continued to grow. Some excited fan in the stands bellowed, 'Hold your horses, the elephants are coming,' and out stamped this Alabama varsity.

"It was the first time that I had seen it and the size of the entire eleven nearly knocked me cold, men that I had seen play last year looking like they had nearly doubled in size."

Strupper and other writers continued to refer to the Alabama linemen as "Red Elephants," the color referring to the crimson jerseys.

The 1930 team posted an overall 10-0 record. It shut out eight opponents and allowed only 13 points all season while scoring 217. The "Red Elephants" rolled over Washington State 24-0 in the Rose Bowl and were declared National Champions.

Yea Alabama

Yea, Alabama! Drown 'em Tide!
Every 'Bama man's behind you,
Hit your stride.
Go teach the Bulldogs to behave,
Send the Yellow Jackets to a watery grave.
And if a man starts to weaken,
That's a shame!
For Bama's pluck and grit have
Writ her name in Crimson flame.
Fight on, fight on, fight on men!
Remember the Rose Bowl, we'll win then.
So roll on to victory,
Hit your stride,
You're Dixie's football pride,
Crimson Tide, Roll Tide, Roll Tide!!

Alma Mater

Alabama, listen, Mother,
To our vows of love,
To thyself and to each other,
Faithful friends we'll prove.

Faithful, loyal, firm and true,
Heart bound to heart will beat.
Year by year, the ages through
Until in Heaven we meet.

College days are swiftly fleeting,
Soon we'll leave their halls
Ne'er to join another meeting
'Neath their hallowed walls.

Faithful, loyal, firm and true
Heart bound to heart will beat
Year by year, the ages through
Until in Heaven we meet.

So, farewell, dear Alma Mater
May thy name, we pray,
Be rev'renced ever, pure and stainless
As it is today.

Faithful, loyal, firm and true
Heart bound to heart will beat
Year by year, the ages through
Until in Heaven we meet.